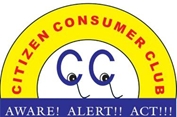 The basis of any democracy is its People, Children and teenage students constitute the hope and future of every democracy. Investing in children and teenage students to handle life situations will no doubt generate the highest return in the form of enlightened and honest citizens. Teaching and sensitizing students to become responsible citizens who carry out their fundamental duties as citizens without being told and question, if their rights are infringed, will be our common goals.
Mission of Citizen Consumer Club:
To enable students understand fundamental rights of a citizen.

To enable students realize and learn the fundamental duties of a good citizen.

To inject Knowledge on product standards, product quality and about markets.

To learn about laws enacted for protection/Welfare of consumers and enforcement authorities concerned.

To develop a sense of awareness among youth and methods of exploitation of consumers by business concerns and measures to protect them.

To impart knowledge on product standards, product quality and about markets.

To learn about sustainable consumption norms and implement them in real life.

To assist the youth in making informed purchase decision as individual.

To build a base of enlightened citizen customers as the foundation of future India.
Pledge of Citizen Consumer Club
As a member of the Citizen Consumer Club we will collectively involve ourselves whole heartedly to help citizen consumers in upholding their rights and fundamental rights.

We will together be responsible and dutiful and remind citizen consumers of their responsibilities and duties.

As an enlightened citizen and consumer, I will do my best to protect citizen-consumers from exploitation by business concerns.

We shall together strive hard to follow healthy and sustainable consumption and educate others.

We shall buy products of good quality and safety.

Awareness, Alertness and Action shall be out motto in creating the enlightened consumer's society necessary to rediscover India's greatness.

We shall together strive hard to live as responsible and dutiful citizens.
Objectives of Citizen Consumer Club
To educate students about rights of the consumers as provided in consumer protection Act, 1986.

To mobilize youngsters by instilling in them the spirit of protection of consumer rights.

To impart knowledge about the role of consumers in protection of their rights and to strengthen the consumerism.
Celebrations of the Club:
Every year in memory of certain important days, the club celebrates:
World Consumer Rights Day

Human Rights and Consumer Awareness Day

National Consumer Day

National Youth Day

Women's Day

World Literacy Day

Independence Day

National Consumer Protection Day

Teacher's Day

World Education Day.
CCC PROGRAMME OFFICER
Dr. A. DINESH KARTHIK, M.Sc., M.Phil., Ph.D.,
Head & Assistant Professor,
PG and Research Department of Chemistry,
CCC coordinator,
Shanmuga Industries Arts and Science College,
Tiruvannamalai – 606 601.
Mail ID: rotaractclub@shanmugacollege.edu.in